Two+Two Creative Resource
27th September 2023
Every year, Creative Resource hosts Two+Two, an exciting initiative that brings together over 200 marketing and creative students to work with leading industry mentors on a live brief. The students gain an invaluable experience and when the hard work is over, the judges pick a winning team.
The 2023 event was all about sustainability. The brief from this year's client, Stockport Council's Climate Action Now (CAN) team, asked for ideas on transforming Stockport into a carbon-neutral town by 2038. Students were also asked to design their campaign to influence how the public feel about climate change. The winning team then pitched their idea to the Stockport CAN Team, with the chance of turning it into reality.
For the last two years, APS have been the creative partner for the event, supplying complimentary design work and printing. We also send two of our agency creatives to help mentor the students and a photographer to capture the day in images, and APS Creative Director Paul Dunleavy sits on the judging panel.
APS also supplied the prize this time, consisting of a visit to our Head Office, where the winning team spent the day with our creatives and account managers developing their idea and pitching skills. We then provided the winning team with ongoing support ahead of the delivery of their finalised idea to Stockport CAN.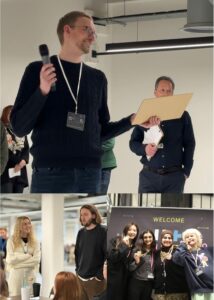 The Two+Two event has a fantastic positive impact on marketing, creative and student communities, bridging the gap between the academic world and the industry. APS Group are incredibly proud to support and inspire the next generation of industry professionals every year!
"Two+Two is a free, inclusive event for students across the north of England and it is only possible to deliver it at scale with a lot of assistance.  APS helps us in so many ways, not only in the services they provide to us free of charge, but by sending mentors from their teams to help the students on the day and in their support, encouragement and advice, before and after the event. They have our heartfelt thanks."
Julie Ollerton, Two+Two founder and Managing Director of Creative Resource.